Cidade da Cultura
Santiago de Compostela
Wednesday and Thursday from 9:00 to 18:00
Friday from 9:00 to 15:00
The UNVEX 2021 Exhibition and Conferences will be held in the Cidade da Cultura of Santiago de Compostela. The Exhibition will be located in the Gaiás Centre Museum and the Conferences will be held in the Convention Hall and Auditoriums 1 and 2 of the Cultural Innovation Centre Building (CINC).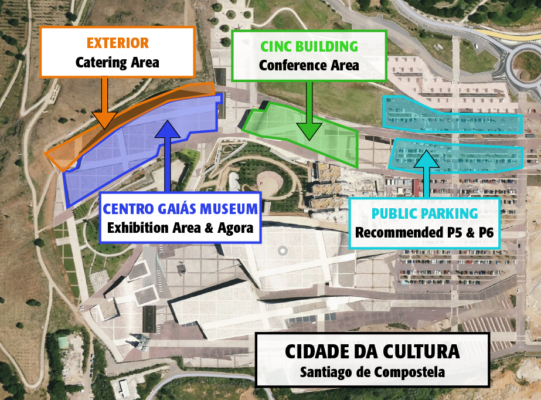 Las Demostraciones de UNVEX 2021 tendrá lugar en la Escuela Naval de Marín (Pontevedra) y en el Centro de Investigación Aeroportada de Rozas (CIAR), en el aeródromo de Rozas (Lugo). No obstante, todos los asistentes a las Demostraciones deben desplazarse en los autobuses que pondrá la organización y que saldrán desde la Ciudad de la Cultura.
The UNVEX 2021 Demonstrations will take place at the Escuela Naval Militar de Marín (Pontevedra) and at the Rozas Airborne Research Centre (CIAR), at the Rozas aerodrome (Lugo). However, all those attending the Demonstrations must travel in the buses provided by the organization, which will leave from the City of Culture.
LINE 9: Monday – Friday (working days)
Departures from Casas Novas  [Every 60 min.]
Monday to Friday 07:30 – 22:30

Route | 

Casas Novas – Santa Isabel – Galeras – San Clemente – A Senra – Virxe da Cerca – Porta do Camiño – San Roque – Basquiños – Pastoriza – Anxo Casal – Rodríguez de Viguri – Fontiñas – Piscinas – Multiusos Fontes do Sar – City of Culture
Departures from the City of Culture  [Every 60 min.]
Monday to Friday 08:00 – 22:00

Route | 

City of Culture – Multiusos Fontes do Sar – Piscinas – Fontiñas – Concheiros – Campo da Angustia – Rúa de Bonabal – San Roque – Virxe da Cerca – A Senra – San Clemente – Galeras – Santa Isabel – Casas Novas
+info Urban transport, Line 9
Following the directions. Parkings 5 and 6 ⇒